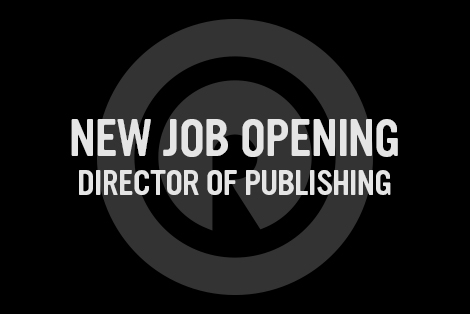 Job Opportunity X Reach Records
Reach Records is looking for a full time Director of Publishing to assist in growing the opportunities around our current catalog and signed writers.
If you are an ideal candidate for this role you should have a strong mix of personal skills and administrative ability. You will be developing relationships with all types of talent in the entertainment industry from artists, to publishers, to music supervisors. At the same time you will be making financial decisions on different opportunities and negotiating contracts, so the skills to work with numbers and percentages will be essential.
You will be the primary relationship with our publishing partners and also developing your own relationships with music supervisors looking for opportunities to place our songs in TV, film, advertisements.
Reach has a number of signed writers that you will be working with to create new content for placements.
Essential Functions:
Identify and communicate music licensing opportunities.
Initiate and bring to close publishing and licensing deals.
Communicate progress towards mutually established revenue and quantifiable strategic goals that demonstrate growth in music publishing and licensing business segment.
Develop and execute strategies to grow Reach's publishing group and drive increased songwriter opportunity .
Identify opportunities for sublicensing or co-publishing, ability to reach out to potential partners and get deals closed.
Proactively lead internal projects, cooperating with the CEO and COO to develop and execute publishing programs.
Work with business stakeholders (CEO, customer service, marketing, digital delivery, operations) to ensure projects and tasks meet business requirements and comply with business timelines of completion.
Assist in artist and copyright owner reporting, report specifying and communication.
Scope and Accountability:
This individual contributor position will work cross functionally between existing Reach Records departments and among senior management in order to establish and meet annual publishing goals and objectives, specifically targets for revenue growth and success stories of artist monetization.
Work Environment:
Position is located in Atlanta, GA
Must be available to travel up to 25% of work month to domestic music industry hubs: LA, NY, and Nashville, TN.
Hours are generally 9-5 Monday-Friday.
Knowledge, Skills, and Abilities:
Four or more years experience in music licensing, publishing and/or sync, and a strong understanding of the publishing landscape.
Knowledge and working experience as an individual contributor conscribing cross-departmental resources in pursuit of company objectives.
Knowledge and working experience in artist development, A&R and artist/songwriter communication.
Demonstrated experience, education or knowledge in registering and enforcing composition copyrights.
Business development / partnership deal making experience.
Strong project management skills and a proven track record in delivering projects in an iterative fashion.
Analytical skills necessary to ensure design and draft to final review of documentation including requirements, tasks, and timelines.
Knowledge of co-publishing and licensing relationships, economics and structures.
Strong initiative and the ability to follow through on objectives.
Work effectively with all levels of company staff.
Ability to work remotely.
Application deadline is March 4, 2015.
Share Post