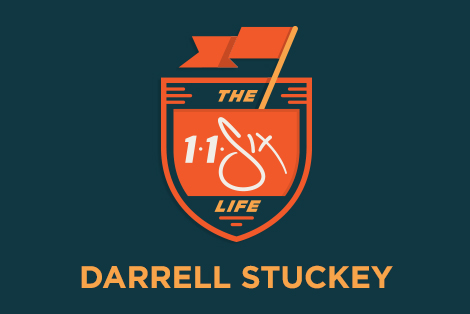 116 Life x Darrell Stuckey
Written by: David Daniels
Bio
Darrell Stuckey is a 28-year-old safety on the San Diego Chargers. His teammates voted him Special Teams Player of the Year in 2013 and captain the past three seasons. In 2014, he earned his first Pro Bowl appearance. "We always prepare for him as an impact special teams player," Chris Harris, Pro Bowl cornerback for the Denver Broncos, said. "He always makes some game-changing plays." Not only has the 5'11", 212-pounder tackled more players on special teams over the past couple of years than almost everyone in the NFL, but he also consistently nears the top of the leaderboard for volunteer hours. Stuckey is the founder of Living4One, the entity through which the University of Kansas alumnus serves as a motivational speaker — or however he can lend a hand.
Darrell Stuckey: Unashamed on and off the field
If votes pour in like the last three years, Darrell Stuckey will be one of five Chargers captains again next season, and it has been predicted that he will keep winning elections a decade from now.
"When he's about 35, 40, he's gonna smoke somebody in a governor's race," his head football coach at Kansas, Mark Mangino, told the Topeka Capital-Journal in 2009.
An exhaustive list of how Stuckey impacted the Kansas community would be so long that it would hinder the readability of this story.
"He's probably involved in too many things," Kansas associate media relations director, Mike Strauss, told Senior Class Award in 2009. "Holy cow, when do you breathe?"
Some of his most memorable off-the-field feats include volunteering weekly for the Kansas Special Olympics and helping establish a policy in Lawrence, Kansas that bars must provide free water or soft drinks for designated drivers to reduce students driving under the influence.
The motivation behind Stuckey's when-do-you-breathe? schedule is plastered on the front page of his official website.
Hebrews 12:1-3 Therefore, since we are surrounded by such a great cloud of witness, let us throw off everything that hinders and the sin that so easily entangles, and let us run with perseverance the race marked out for us. Let us fix our eyes on Jesus the author and perfecter of our faith, who for the joy set before him endured the cross, scorning its shame, and sat down at the right hand of the throne of God. Consider him who endured such opposition from sinful men, so that you will not grow weary and lose heart.
The summer before his senior year at Kansas City's Washington High School, Stuckey grew weary and lost heart. On Day 1 of a University of Kansas football camp, Stuckey injured his hamstring in a sprinting drill, and he became angry at God.
"What good is this if I can't compete at my full potential because you let me strain my hamstring while I was running?" Stuckey said.
Even before his injury, though, Stuckey only planned to stay one day because he had already committed to attend a Fellowship of Christian Athletes (FCA) leadership camp that week. If anything, he thought his admirable priorities were deserving of reward — not what seemed to be punishment.
"Lord, I put you first," Stuckey said. "I decided that I wanted to go to the FCA camp over staying at this football camp and honor that commitment, and yet you let me strain my hamstring and not finish the drills."
At the FCA camp, Stuckey thought it would be fun to climb a three-story vertical obstacle course using a technique that no one had attempted before — blindfolded and tied to a friend. The handicapped duo needed to rely on campers below to tell them how to scale the course.
As Stuckey ascended, he felt God speak to him.
"How dare you put your life in some stranger's hands, let alone a kid?" Stuckey said. "The person who was holding my bungee on the ground was another kid. I can't even remember their name and probably didn't know their name that day, and they had my life in their hands."
Stuckey experienced this revelation as he listened for instruction about where to put his hands and feet as he climbed the ladders and poles of the course.
"They're basically ordering my steps," Stuckey said, "and God is revealing to me how idiotic it is for you to not hesitate and let this stranger order your steps, tell you where to stand, tell you where to jump and tell you where to go, and you can't trust me, and I've been here your entire life."
When Stuckey reached the top, a newfound clarity overcame him.
"At that moment, God found a way to pierce straight through to what meant the most to me, which was sports, getting into college and trying to be the first to graduate in my family," Stuckey said. "Going to the FCA camp, I was upset. Before I left, God totally broke me, and he broke me in a way spiritually that would build me up to be the man I am today.
"In the game I play, everyday, I'm an injury away from my career being over, and yet I'm relying on this liability of life to provide for me, to help me go to college, and I do that without having faith, without having a clear conscious of who God is in my life and where he stands, which should be No. 1. I made a vow that night that, no matter where I go in my life, I will be a witness, and I will be a vocal leader for Christ."
Days after he stood on top of the obstacle course, Stuckey felt like he was on top of the world. The same day that Stuckey left the FCA camp, he received a full scholarship offer to play football at Kansas, and he accepted it.
However, two weeks later, Stuckey was dealt a blow far more painful than a strained hamstring. Police arrested his stepfather for a crime against one of Stuckey's siblings. His conviction left Stuckey's mother, a telemarketer, to support herself and six kids.
While Rivals.com had ranked Stuckey the sixth best player in the state, to help take some of the financial burden off of his mother, he started to leave practice early to work until 11 p.m. as a Holiday Inn waiter.
As agonizing as the tragedy was, though, Stuckey did not grow angry at God this time.
"God prepared me for that moment," he said.
Stuckey's faithfulness continued at Kansas, where he started an FCA, and his accomplishments piled up on and off the field. The same year that he was a semifinalist for the honor given to the best defensive back in college football, the Jim Thorpe Award, Kansas also elected Stuckey as a Student Senator.
In 2010, the Chargers selected him in the fourth round of the NFL draft, and he immediately began to serve San Diego. Since then, his fulfillment of the promise that he made to God at the FCA leadership camp years ago — "no matter where I go in my life, I will be a witness, and I will be a vocal leader for Christ" — has continued to make him stand out.
"Stuckey, he's just a man of God," Broncos cornerback Chris Harris, Stuckey's roommate for three years at Kansas, said, "You can see that by how he plays on the field and has a family in the NFL, and he's faithful. A lot of guys in the NFL, they're single, they go out there and they're pretty wild."
"It is countercultural in the NFL to live sold out for Christ," Colin Sinclair, the San Diego County director of FCA, said. "There's those guys that maybe score a touchdown, point to the sky and praise God, but Darrell lives it out not just on the field, but off the field as well. He's recognized that God has given him a platform to draw people closer to Christ through the influence that he has as a professional athlete. His website alone has a whole section on salvation. Everything he lives and breathes is centered on the gospel."
Share Post