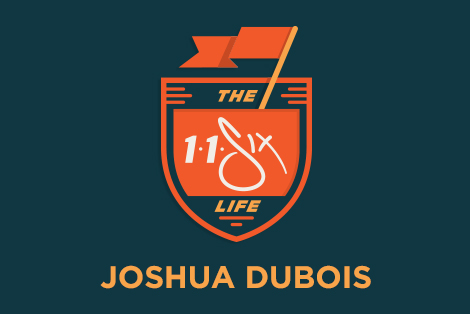 The 116 Life x Joshua Dubois
Bio
From 2009 to 2013, Joshua DuBois headed the Office of Faith-based and Neighborhood Partnerships in the Executive Office of the President of the United States — Barack Obama's Pastor-in-Chief, for short. Since stepping down, the Boston and Princeton University alumnus has authored the book The President's Devotional, written columns for The Daily Beast and founded the consultancy Values Partnerships. Last year, Christianity Today named DuBois one of its 33 Christian leaders to watch under 33 years old. "The Root 100" and Ebony's "Power 150" have listed him as one of today's most influential African Americans. DuBois, 33, is also a former associate pastor at Calvary Praise and Worship Center in Cambridge, Mass.
Joshua DuBois: Unashamed in and out of the White House
Before President Barack Obama delivered remarks about the importance of faith at the 2013 National Prayer Breakfast, an annual event hosted by Congress with about 3,500 attendees from over 100 countries, he wanted to thank someone first.
"Before I begin, I hope people don't mind me taking a moment of personal privilege," Obama said. "I want to say a quick word about a close friend of mine and yours, Joshua DuBois. Now, some of you may not know Joshua, but Joshua has been at my side — in work and in prayer — for years now. He is a young reverend but wise in years. He's worked on my staff. He's done an outstanding job as the head of our Faith-based office.
"Every morning, he sends me via email a daily meditation — a snippet of Scripture for me to reflect on. And it has meant the world to me. And despite my pleas, tomorrow will be his last day in the White House. So this morning, I want to publicly thank Joshua for all that he's done, and I know that everybody joins me in wishing him all the best in his future endeavors — including getting married."
In 2008, DuBois felt an urge to risk his job.
Obama, then a Senator for Illinois, had hired him as the religious outreach director on his presidential campaign. DuBois had wanted to work for him ever since he heard Obama say, "We worship an awesome God," in a 2004 speech. To DuBois, then a congressional legislative intern who had become a Christian and associate pastor in college, the statement was refreshing.
While DuBois had achieved his lofty goal, its significance did not outweigh the urge that came out of nowhere to send Obama a devotional. However, DuBois second-guessed himself.
"Quite frankly, I didn't feel qualified," he said. "I was a young kid who loved the Lord and knew how to write a little bit, but I wasn't a pastor of some major church. I had not been to seminary. I went to public policy school. And I wasn't sure that I was the one who should be sending devotionals to a guy who might become the leader of the free world."
DuBois prayed about it, though.
"I really felt God nudging me in the direction of … he could in fact use me because I wasn't qualified because then, when he did something through this," DuBois said, "it wouldn't be me that got the glory, it would be him."
DuBois proceeded to ask Reggie Love, Obama's personal aide, for the senator's email address. He had another question for Love, too: Did he think it would be a good idea to send Obama a devotional?
"Listen, I'll give you his email address," DuBois remembers Love saying, "but I think it's a terrible idea. You're about to get fired."
Love's warning made DuBois hesitate — but only temporarily. As Obama engaged in a race with John McCain to become the next U.S. president, DuBois emailed him a reflection on the following Bible passage.
The Lord is my shepherd; I shall not want. He makes me lie down in green pastures. He leads me beside still waters. He restores my soul. He leads me in the paths of righteousness for his name's sake. Even though I walk through the valley of the shadow of death, I will fear no evil, for you are with me; your rod and your staff, they comfort me. You prepare a table before me in the presence of my enemies; you anoint my head with oil; my cup overflows. Surely goodness and mercy shall follow me all the days of my life, and I shall dwell in the house of the Lord forever: Psalm 23:1-6.
DuBois stared at his phone for a few minutes awaiting a reply.
None came. He just lost his job, DuBois thought.
Several minutes later, though, an email delivered. It was from the senator.
"Joshua, I don't know how you did it, but this is exactly what I needed today," DuBois remembers Obama saying. "Would you mind sending me these every day?"
Months later, Obama won the 2008 presidential election, meaning DuBois had a lot of mornings for which he needed to write devotionals.
He spent four years doing that, as well as directing the Office of Faith-based and Neighborhood Partnerships, before choosing to leave in 2013.
"After years and years in politics — from Capitol Hill to the 2008 campaign to four years in the White House — burning out is a real thing," DuBois said. "There were some other things that I felt like God was doing with me and wanted to do through me, and I was also getting married, so I just wanted a little bit more time in my day to pursue some other callings."
One of those callings is to be a dad. His wife, Michelle, is pregnant with their first son.
A colleague of DuBois's in the White House, Scott Buckhout, expects him to be a phenomenal father. Buckhout witnessed how seriously DuBois took managing Obama's fatherhood initiative.
A year after DuBois left the White House, Buckhout followed him to Values Partnerships, a consultancy that connects organizations outside of the church with the church and minority communities to help each other solve problems.
"In the White House, I saw that people were doing similar things, but they were doing it without knowledge of the other," DuBois said. "There were great faith-based organizations working on international development, but the United States government has an agency for international development where people are doing good work, too. There are great faith-based organizations working against human trafficking, but the Department of Justice was doing great work in that space, too. … If we can link these parties together, that's not only good for the parties, but it's good for our communities and for the kingdom as well."
Whether through Values Partnerships, the White House or another of DuBois's many public roles, he has remained unashamed about his motivation.
"I always thought that people of faith have a role in American life and in changing society," DuBois said. "When you look at, for example, some of the greatest movements for justice and compassion that we've seen in our country's history — the civil rights movement, the progressive movement, the abolitionist movement — at the leadership roles in those movements were not political activists, but people of strong faith.
"Martin Luther King's organization was the Southern Christian Leadership Conference. You look at Walter Rauschenbusch and the social gospel movement of the early 20th Century. You look at all the abolitionists and why they were motivated to do their work, and so many of them traced it to back their faith, and for many of them, it was their belief in Jesus Christ and the message of the gospel. And so, I had a strong sense early on endowed to me by my grandmother and some other people that your faith is just not something that you practice privately, but that you bring into the public square as well."
Share Post