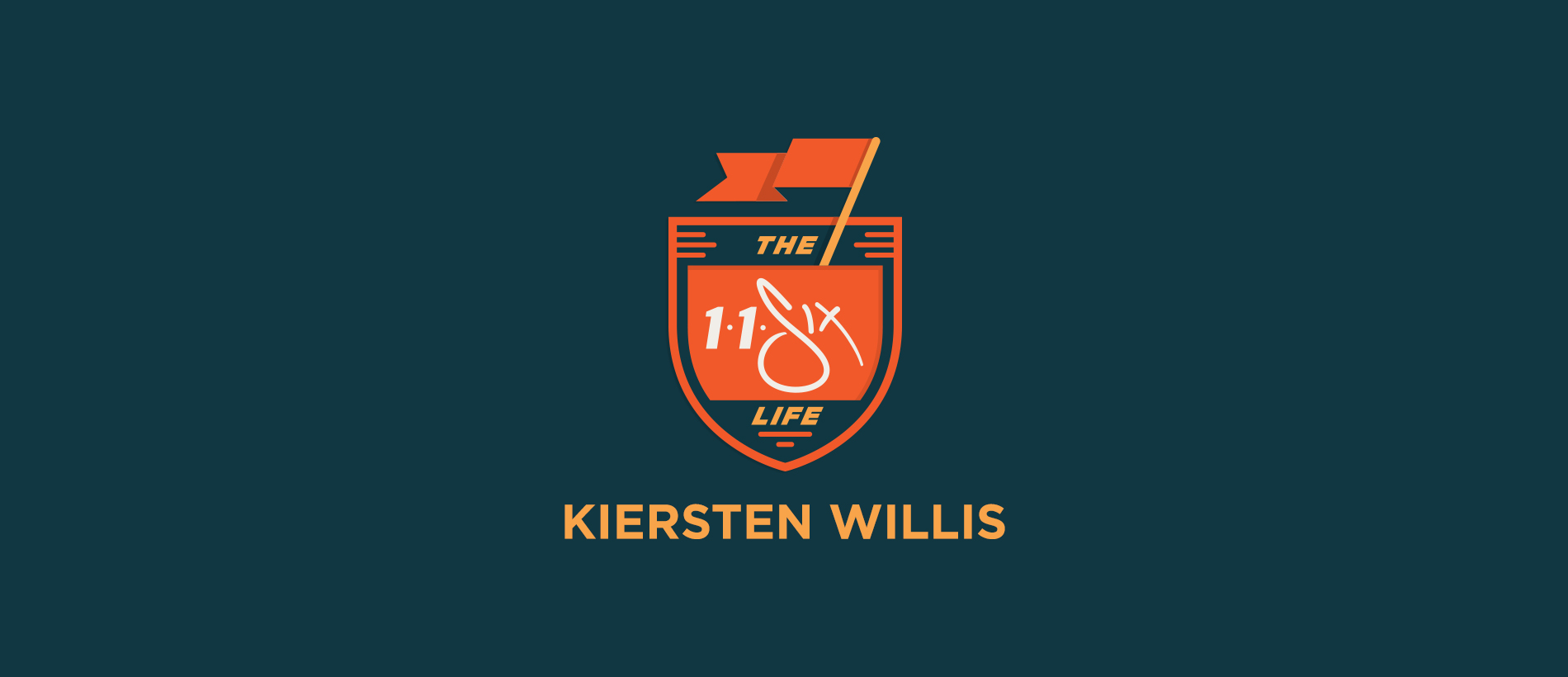 THE 116 LIFE x KIERSTEN WILLIS
Bio
Kiersten Willis is an urban missionary and program coordinator for Elevate International, a Phoenix-based ministry founded by Pittsburgh Steelers and Los Angeles Dodgers chaplain Chad Johnson. Willis spent several years on the hip-hop dance teams of both the NBA's Phoenix Suns and WNBA's Phoenix Mercury. In addition to these squads, she has choreographed for other dance teams including those of the Cleveland Cavaliers, Oklahoma City Thunder and Denver Nuggets, as well as cheerleaders for Germany's Artland Dragons. Before Elevate hired her, she toured the nation dancing on two nine-month mission trips with Breakdown International, another non-profit which uses arts to spread the Gospel.
Kiersten Willis: UNASHAMED TO DEFY DANCING NORMS
Kiersten Willis's childhood dream was to become a dancer.
Today, she is just that, but not at all how she had dreamed — and despite the fact that her aspiration once seemed like a pipedream.
"When it came to my dance career, I was definitely a late bloomer," Willis said. "I unfortunately did not have the same opportunity as other dancers who start training vigorously at the age of three in multiple styles with the help of great teachers. The only exposure I had to dance were my older cousins forcing me to put on living room performances and occasional front yard showcases for our family." 
Only in eighth grade did Willis finally start to take dance classes, which hurt her confidence in the years that followed.
"I always felt two steps behind my fellow dancers," Willis said. "I felt inadequate because I did not have the same training. To be honest, I flat out was not very good. But I never let that fear stop me from ultimately pursuing dance further."
Willis put in extra hours of training to make up for the extra years of training that other dancers had, and it paid off.
In college, she co-led an all-female dance group, and opportunities arose to perform in clubs, fashion shows, halftime shows and music videos of local rap artists.
"We were getting pretty popular within the Phoenix area," Willis said, "but the temperature of the group swayed toward a sassy, sensual-type of dance group, which wasn't my original intention. But we were getting booked a lot."
The more she began to compromise in her choreography, the more Willis, who grew up in a Christian home, felt conflicted — so much so that she became open to quitting dancing.
"Rehearsals were ridiculous," Alyxis Trujillo, a member of the group, said. "Kiersten was constantly arguing the fact that she was not going to do a certain song or do a certain dance move or wear a certain outfit. I remember leaving practice multiple times out of frustration because she was the only one arguing, of course, due to her Christian faith."
One night in her room, Willis prayed a tearful prayer about reprioritizing her life, desiring to put God back above dance.
"Look Lord," she said, "if you don't want me to dance another day in my life, if that's your will, then that's what I'll do. It's gonna hurt, but I'm willing to do that."
Willis left her dance group, but her dance career was far from over.
By the following year, she had tried out and earned roster spots on the hip-hop dance teams of the NBA and WNBA franchises in Phoenix, the Suns and Mercury. Both ball clubs competed at the US Airways Center, which held up to 18,000 people — a larger audience than at the local clubs where Willis had previously performed.
Her career took a turn for the better, but opportunities to compromise on her faith had not faded.
"There's always this struggle with young, adult women who see these [other] women in the entertainment industry willing to compromise their dignity to gain the attention of certain men, and when they do that, they're the ones that are getting flown out … given gifts or trips," Willis said. "Some girls that I know have bragged about those certain things, and I know that I could've went down that route. To be honest with you, there were certain times where I was envious of those girls that got so much attention… But I told myself I would never let myself get into that thought process of compromising my dignity to live a certain lifestyle or to be seen a certain way."
Choreography also presented challenges.
During a visit to Los Angeles while on tour, Willis wore a T-shirt that read "God keeps it 100" while attending the class of a favorite choreographer of hers with some friends.
"I'm thinking it's going to more of a hip-hop class, and when we get there, it's one of those more sensual classes," Willis said. "I'm like, 'Oh, great. What am I going to do? I'm wearing this shirt.' Instead of walking out, as best as I could, I manipulated the choreography. That might come off offensive to a choreographer, but for me, that's what I did. If there was a move I didn't feel comfortable with, I did something else."
For Willis, The 116 Life represents a willingness to sometimes defy cultural norms of dancing.
"I believe being bold and consistent with your faith while in secular environments is important," she said. "You first have to be willing to go into those places, and then not back down when things become inconvenient. It's important to go against the grain and be willing to be ridiculed for not being politically correct — to say the tough things, to do tough things in the dark places. I'm not saying go pick a fight or to yell in the ears of those who don't believe, but I am saying our lives should scream Jesus, who ate among sinners, loved them and still never compromised."
Last April, Phoenix-based ministry Elevate International hired Willis to develop its fine arts program and be an urban missionary to the dance community. She chose not to audition for the Suns' hip-hop dance team this year so she could be more present in that community by going to dance battles, classes and other events.
Willis's decision to leave an NBA dance team won't strengthen her dancing resume, but she has a different motivation.
"She understands that her ability to dance is a gift, and she strives to make the best of her gift to grow the kingdom of God," said Vicky Harris, who has worked with Willis as the owner of Choreography Pros. "Kiersten has also come to the realization that God has a plan for her that is far better than her own."
As an urban missionary, Willis wants to assist not just dancers, but all artists to utilize their craft for a higher purpose, such as raising social awareness about domestic and global issues.
"My overall goal is to help develop artistic disciples," Willis said, "helping artists know that they can do more with their art form. How can people use their gifts to impact lives and not just make people say, 'Oh, that was cool,' but really touch hearts, to help people become more cognitive of what's going on in the world and, then — more importantly — the love of God?"
Willis's childhood dream to dance may have been closer to leading that up-and-coming, all-female dance group than an urban missionary, but even critics of her departure several years ago have become convinced by her conviction.
"[Willis's] decision turned out to be one of the best for her future," Trujillo said. "At the time we made a lot of money and began to be very well known, but to see [her] now is not even comparable."
Connect
Share Post