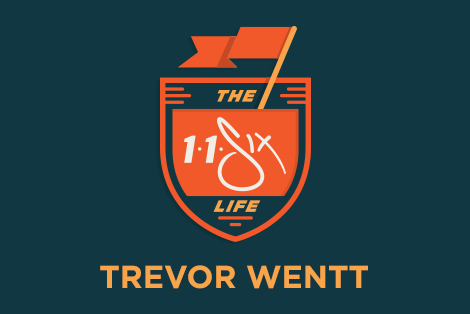 The 116 Life x Trevor Wentt
Bio
Trevor Wentt has traveled across America to wrestle people. His senior year of high school, he finished eighth in the Virginia state tournament and earned a scholarship to compete at King University in Bristol, Tennessee. This summer, Wentt is traveling cross country again — this time to take pictures. He graduated in May 2015 with a photography degree and, months earlier, was named a finalist in the Photographer's Forum 35th Annual College and High School Photography Contest. While Wentt is a skilled artist, his minors in college — Biblical and intercultural studies — hint at the heart behind his road trip that is probably happening as you read this.
Trevor Wentt: Challenging perspectives through an unashamed lens
King University photography major Trevor Wentt knew exactly what he wanted to do for his senior project: An editorial on hair.
"A lot of times," Wentt said, "black kids are told growing up that, 'You don't have the good hair.' I wanted to dive into that, but the thing with photo professors is, they ask the question, 'Why?' way more than I'd like them to."
His professor asked him what the purpose of the angle was.
"I just told you," Wentt said. "Black kids are told their hair is not good. That's the purpose."
His professor insisted a deeper motivation existed.
After much reflection, Wentt concluded the root of his "You don't have the good hair" editorial was insecurity about his image. He decided to tackle a project about physical insecurities, and, for Wentt, this was deeper than a school assignment. Physical insecurities had paralyzed him growing up.
In seventh grade, Wentt walked into study hall and sat by a group of black students.
"I was always trying to fit in with the black kids," he said, "but it was weird because it was like, I was too black for the white kids, too white for the black kids."
As Wentt attempted to not stand out, an interaction with a student named Stefan made doing so difficult for several years.
"Trevor," Wentt remembers Stefan saying, "you ugly."
Wentt could only think of one comeback.
"Man," he said, "I look better than you."
Stefan took that as a challenge. He asked the girls sitting a couple of rows behind them to choose who they would rather date.
Every girl selected Stefan.
"I think that day truly birthed my struggle with self-image," Wentt said.
The following years were difficult for him. Late in his high school career, though, Wentt found confidence in his identity through his Christian faith.
"I started embracing the fact that these zits don't define me," he said. "These scars don't define me. My bone structure doesn't define me. It doesn't define this beauty that God made me in. I'm defined by him, and I am made in his image."
Enter IMAGO: Wentt's senior photography project.
After settling on an angle, he asked seven friends to write an insecurity of theirs on a piece of paper as he filmed.
"Weak minded," "thunder thighs," "bulging stomach and broken-hearted," they wrote.
Then Wentt told them to cross their insecurity out, which symbolized them facing it through the lens of an image bearer of God — just like he had late in high school. Some of his closest comrades cried as the cameras rolled.
"It's one of those things you don't really think about until someone makes you stop and go, 'Where is that in your life?'" Wentt's pastor, Scott Ball, said.
The impact of Wentt's video led him to revamp it for his super senior project the following year. This time, he recruited 15 people to participate in Imago 2.0 with him.
More participants and viewers left encouraged — some even with a reshaped view of themselves — from a professor who felt less effective than his colleagues to a girl with suicidal tendencies. Wentt's pastors were so impressed with the result that they asked him to lead an IMAGO event at their church, where he served as an Associate Creative Arts Director.
"We had a crazy-positive response from that," Ball said. "I saw [Wentt] sit down at one point with one lady who was just in tears for 20 minutes. He had to [lead] this whole thing again literally a minute after he talked to her, but he sat with her for 20 minutes as she's telling him her story of why she's struggling with seeing the image of God in her."
Wentt always takes his art this seriously. He creates with an agenda: to challenge perspectives.
"I think photographers … we're like the image-shapers of the world," he said. "Photographers can shape the perspective of beauty in our world really easily. There's a lot of power behind the camera and a lot of power behind what an image can put forth and what people can take from it."
On Aug. 2, the King graduate set out on a road trip with his best friend, Hunter Smith, to capture as many perspective-challenging images as possible between Tennessee and Vancouver, Canada, where Wentt will attend Regent College in the fall. He selected the school because it will offer the aspiring church planter more artistic opportunities than most as he studies for his Master of Divinity.
Since Day 1 — which was actually in a general photography class his junior year at King — Wentt's Christian faith has motivated the vast majority, if not all, of his art.
"The more you separate your art from your life, the more you're missing the point," a former professor of his, Chris Stewart, said. "We always want our students to understand that their creative work should just be an extension of their actual daily life — not the life they want to be living and not things they think are hip and cool. He actually lives as a full-faith Christian every day, so it makes sense that his creative projects naturally stem from that.
"So many times, I've actually tried to make him find a project that did not have anything to do with his faith to begin with, or it didn't have the predetermined end goal of usefulness, but realistically, it never worked. In everything he takes on, he makes sure that [his faith] is a part of it, or else it has less chance of success for him because I think he either tires of it or gets bored with it."
What kind of an impact does Wentt's former professor expect him to make with photography in the future?
Stewart is unsure — just because he said Wentt's greatest strength isn't limited to media.
En route to Yellowstone National Park on The Westward Summer, the journey that Wentt embarked on this month, Smith said his most memorable moment had been on the mountains of Pikes Peak in Colorado. Looking down at the clouds wasn't what made the moment most memorable, though.
"We go into these places, and you're going to experience God's creation to see how powerful he is and what he's built," Smith said, "and then you see God's relationship through your best friend more so than you do in the nature itself."
Wentt simply lives to encourage people. This strength was at the root of IMAGO, as well as The Westward Summer, on which he desires to not only challenge others' perspectives, but also his own in hopes to engage people better.
"Everyone has a different perspective. Everyone has a different experience. Everyone looks at life through a different lens," Wentt said. "In the same way that I take a camera and grab a different lens to get a different perspective of the world that I'm looking at, by engaging different people, I get the opportunity as well to see the world in ways that I don't see it. By that, I think that God is trying to shape me as a person — trying to shape me hopefully at one point to end up as a pastor with these different perspectives in mind."
Like with his art, Wentt's interaction with people can't be separated from his faith.
Share Post